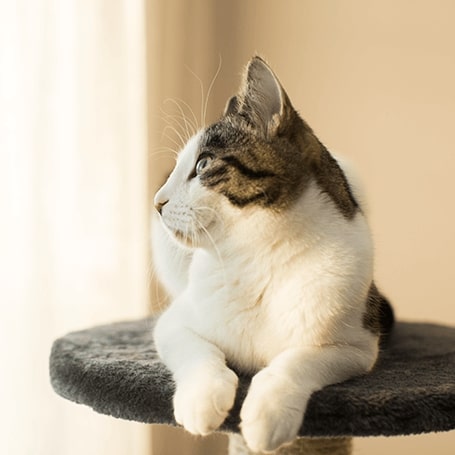 Going out of town? Headed out for a long day trip? Don't worry, we have you and your pet covered! Reid Veterinary Center offers both overnight and day boarding services for your cat or dog!
Our boarding guests enjoy safe, clean facilities with veterinary staff supervision during the day. Your pet will get plenty of exercise and socializing time and enjoy a private indoor suite during their stay. Our boarding charges are per night and to accommodate our guests, we are open seven days a week. Our accommodations may vary in size and amenities but not service.
Boarding Amenities:
Personalized attention from our dedicated and caring veterinary staff
Climate Controlled, in-door boarding accommodations
Plush sheepskin rugs for bedding and Cots for our geriatric guests
On-leash walks and individual playtime
Royal Canin Low-Fat GI premium food (to prevent stomach upset)
Veterinarian on-premise with daily rounds through the kennel
We recommend you bring along your pet's favorite food to prevent any digestive problems and any bedding or security item to make for a more enjoyable visit. Please label items with a permanent black marker. Mobile Vet Clinic is not responsible for lost or damaged belongings. We proudly offer a specialized premium food and administration of any medications your pet needs at no additional charge.
Boarding Requirements:
For the safety of your pet and all our guests, animals who board with us must have the following current vaccinations:

Dogs—rabies, distemper, bordetella (kennel cough), and a negative fecal test on record from the past six months. In addition, due to a recent outbreak of canine influenza (CIV) in our state, we are also requiring the CIV vaccine. This virus is highly contagious, and unvaccinated dogs have no immunity to it.

Cats—rabies, FVRCP, negative fecal test on record from the last 6 months.
Our boarding spaces fill very quickly! Contact us today to make a reservation and fill out our Boarding Form.
---
Main Boarding Kennels
We offer variously sized kennels to meet the needs of all our boarding guests. Our standard dog accommodations range in size from a 9 square foot run for our smallest guests to a 64 square foot run for multiple pets or large and giant breed dogs.
---
Luxury Boarding Suites
Our luxury boarding suites were designed specifically for the pampered pet to give them a real home away from home. These suites are complete with vaulted ceilings, windows, a TV for each guest turned to their favorite channel, and appropriate bedding.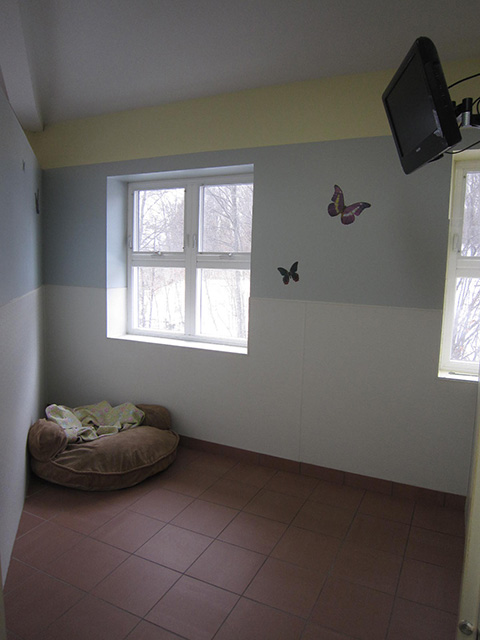 ---
Cat Condos
Our cat guests enjoy private "condos" with plenty of space for food, litter boxes and resting. Cat condo spaces are separated from dog boarding areas and four have a window view so that your kitty can enjoy a quiet and relaxing stay with plenty of entertainment.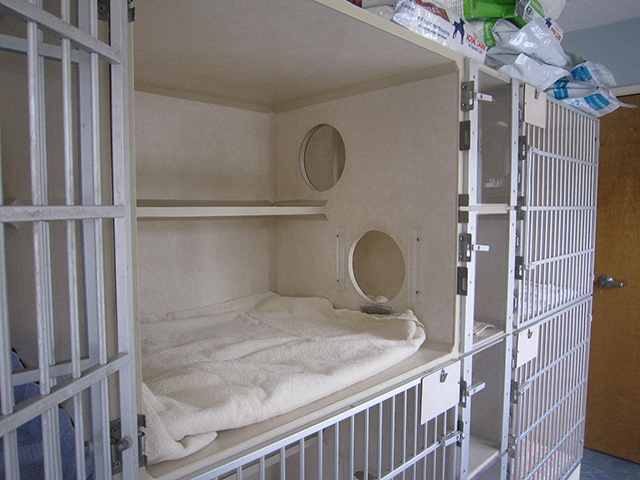 Make An Appointment