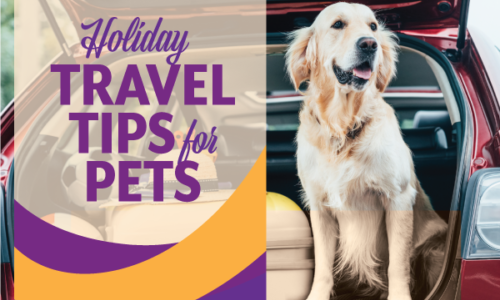 Got holiday travel plans that include your pet? Here's some helpful information to make sure your trip goes smoothly:
Health and/or travel certificates from an accredited veterinarian will likely be required to take your pet out of state or out of the country. Check the U.S. Department of Agriculture's pet travel information site to find out what specific documentation will be needed, then make an appointment with your MVC veterinarian to get those started.
Many airlines have changed their restrictions for animal transport, limiting breeds and destinations. Consult with your specific airline about their pet travel policies before you purchase tickets.
You'll want exercise your dog before starting out on any road trip, and then stop every couple of hours to give them some relief and a chance to stretch their legs.
Secure your pet safely in a roomy travel crate or seatbelt harness. If you opt for a crate, the Center for Pet Safety recommends that crates be attached to vehicle walls.
Make sure your pet has ID inside and out. Your dog should not only have a collar and identification tags, but a microchip as well.
Not taking your pet along? MVC offers clean, comfortable, veterinary-supervised boarding for dogs and cats—but we're filling up fast for the holidays. Make your reservations now by calling 203-261-9223.